Who she is!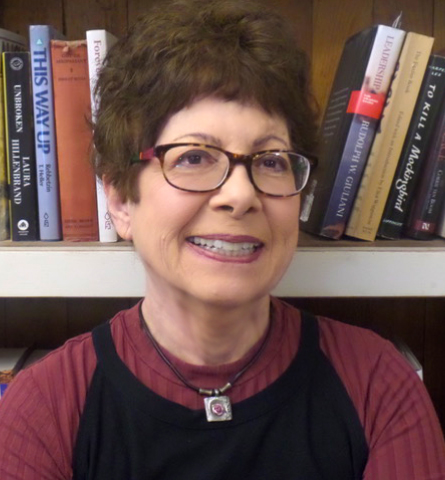 Arkay Garber wrote her first illustrated short story, The Kickel Family at age five, and she directed and starred in her first musical, Peter Pan, at age ten. She danced and painted in her teens at the NYC High School of Music and Art; she developed her passion for ballet by studying with the Balanchine School of American Ballet for ten years while attending Professional Children's School and dancing with a ballet company.
During a long career as a secondary and university writing teacher in Ohio, Las Vegas, California, and NYC, she met hundreds of students who, like most of us, have a love for the medium of film and live theater. Mentorships with master Hollywood screenwriting gurus followed, and then she developed her own unique curriculum for classes in storytelling for film, novel, and stage.
In 2014, she decided to fulfill a lifelong dream of opening the Jerusalem Center for Artistic Development, Inc. (JCAD), a not-for-profit organization. And what better locale to realize that dream – Jerusalem, Israel.
Since 2014, she has conducted 75 on-location screenwriting courses and Work Shops at Jerusalem venues; she gives seminars and private online consultations on crafting story for film, stage play, and novel, using screenplay techniques and her own unique methodology.
Credentials and stats
B.S. in Education, English and French, from Kent State University, Ohio
M.A. in English from Kent State University
Screenwriting studies at UCLA and NYU
Mentorships with master Hollywood screenwriting gurus to hone her craft
Developed her own unique curriculum
Personal life
She currently resides in Jerusalem with her family and pets and enjoys meeting visitors from all over the world in a uniquely spiritual environment.
What You Can Learn from Arkay's writing insights
Having spent a lifetime teaching the writing craft to both native and non-native students from all over the world and developing her own unique curriculum to help writers achieve their goals, her husband urged her to give book–writing a try. A first novel, employing her unique system of incorporating screenwriting techniques is now in the works.
Through life's journey, it's never too late to tell a great story about characters striving, failing, falling, regrouping, and trying again! It's life in technicolor!
What Arkay's University students Learned about Writing
As Bette Davis famously said, "Getting old ain't for sissies," the same holds true for the writer, who plods on into the wee hours of the night without always seeing that proverbial light at the end of the tunnel!
What job entails hours of thinking and typing with no master standing over one's shoulders, nobody cracking the whip? What job sometimes entails a response from naysayers who seriously doubt that anything really new and exciting could ever be written because once the wheel was discovered, everything else was anti-climactic?
Writing is a job. But it can be so much more. It can be therapy. It can be an escape. It can release creativity one never could have imagined. But it's hard work, no doubt about that.
Editing is even harder. Ruthless editing can be seriously painful. But in the end, persistence, integrity, follow-through and an earned belief in oneself…And courage to write the truth, from the heart. These are big deals!
Reaching an audience who might never have been reached had they not turned the pages of the book, seen the film, or attended the live stage performance. That's the greatest reward for a writer.
What Makes a good book, film, stage play stand out

Stories that follow the mantras of "Show, don't tell," and "Moral argument through action" will remain possibly forever in the collective psyche: A Christmas Carol, It's a Wonderful Life, Casablanca, Hamlet, Othello, Gone With the Wind, Little Women, Blackhawk Down, Shooter, The Imitation Game, The King's Speech, To Kill a Mockingbird, The Grapes of Wrath, Brave New World, E.T., West Side Story, Phantom of the Opera, and on and on.
Life is genre specific. Horror films are loved by some, hated by others. The same holds true for Romantic Comedy, Science Fiction, Crime, etc. Which genre do readers/audiences love, which genre do readers/audiences hate? As a writer, do not be swayed by the genre "of the moment." Audiences change. Societal mores change. Go with the heart and tell the truth.
The message is clear: Reach the reader/audience cathartically, so they walk away stunned, happy, sad, emotionally charged. It's the cathartic experience, not the writer's ego that counts.