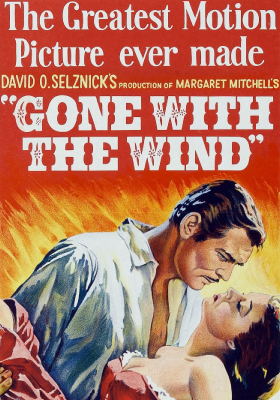 Gone With the Wind
Arkay Garber
Script-O-Meter: 9
Genres: Romantic Tragedy/Drama/Historical Epic
This is a story of paradoxes and irony. It is tragic in the vein of star-crossed lovers. The two main characters appear to be opposites, but as Rhett cynically surmises, they have a lot in common. Their weaknesses are both psychological and moral: Scarlett lost her fantasy world – Was she spoiled? Yes. Arrogant? Yes. Self-centered? Yes. Beautiful and the belle of the ball? Yes. This is all a set-up for the fall she takes by the end of the story. The blind arrogance prevented her from experiencing the love of her life.
Her Ashley fantasy was part of her Southern Belle fantasy life that blew up, and she selfishly hangs on with her arrogance to this fantasy. She knows about Melanie and her goodness and Christian ideals – Melanie goes to visit the "Madam" who is Rhett's friend – In those days, for a proper Christian lady to have a friendship with a prostitute was unheard of – But this is Melanie's goodness. Scarlett knows that she can never be like this. Her mother was like Melanie as well.
Scarlett then is faced with survival as the war "interferes" with that fantasy bubble. She does an admirable job of being the strength of her family. In those days, it was highly unusual for a woman to achieve on her own what Scarlett achieved. This is her strength. What she could never come to terms with was the Southern Belle fantasy world and the liberated woman who was way before her time: Women couldn't vote until 1920. Women couldn't go out unescorted. Women had to wear certain clothing and bear children and not disagree with their spouses or they could be abused. They had no rights. She was WAY before her time.
Rhett was a cynical gun-runner who capitalized on the war, yet beat himself up for not actually fighting in the war. For this, he felt like a coward. This was his own perception, even if it was not the truth. He wanted Scarlett over other women because of her beauty, arrogance, and strength, and also, he loved that Southern Belle silliness about her that was fast disintegrating forever.
The South and the lifestyle that was slowly disintegrating forever is the Story World that mirrors the relationship of these two characters. They each have what is called a "Double Reversal" at the end of the story: Rhett wants to walk away and Scarlett yearns to have him because she realizes too late, what she had with this great love.
Oh! What could have been! That is tragic romance. It also is a universal theme. We humans can certainly identify with missed opportunities and stupid choices we've made. This film, in sum, was a masterpiece. Story line, characters, character web, story world, historical epic backdrop, clever dialogue. A classic!!