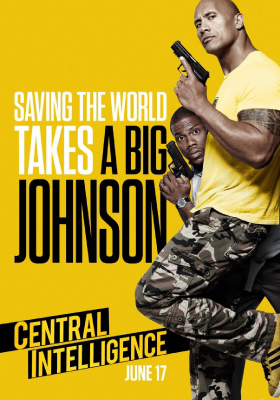 Central Intelligence
By Arkay Garber
Script-O-Meter: 2
Genres: Comedy/Action/Drama
I was highly disappointed by an absolutely awful script for this concept. For the genres of comedy/ action there was the addition of dramatic elements of the Hero's character. This was actually a sub-genre of comedy: The buddy picture. Both characters had back stories to their high school days. There's the irony of the overachiever "little guy" and the buffoonery and cruelty toward the "fat guy." Then we have the "most likely to succeed" wallowing in his career as opposed to the "fat guy" who worked out 6 hours/day for 20 years and now is a superman in strength and who now is a CIA operative with superhuman combat skills.
But how the above was related to the audience is where this script really fell down. The opening 10 minutes was pure talk. No action, just talk, talk, talk in one location. And then we have the incident we've been waiting for: the meeting of the two buddies.
Then for the next 10 minutes, we have more talk, talk, talk at a bar…one location. So for 20 minutes, it's slow moving and going nowhere. In the action genre the audience comes prepared to see action. There is none. In the last 10 minutes of Act 1, we finally get a reveal as to the covert work that Dwayne has been doing these past 20 years, but it's more talk, talk, talk.
Then we have the C.I.A. breaking in and we have the spoof of the Bourne series. Okay. I love the acting of the two buddies, but the script was so predictable, and yet so abysmally boring with talk, talk, talk, the audience was shifting in their seats from sheer frustration. No spoilers here, but this was an idiotic plot with predictable turns. Even the decent chemistry between the stars could not save it for me.