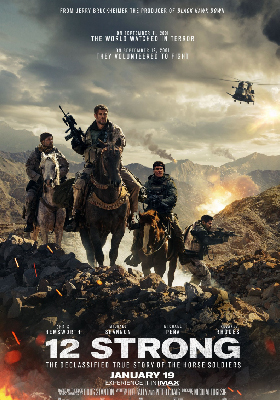 12 Strong
Arkay Garber
Genres: Memoir/True Story/Drama/Historical Epic/Adventure
Script-O-Meter Rating: 9
Premise: When the U.S. military fights back after the September 11, 2001 attacks on U.S. soil, a team of U.S. Special Forces, led by Captain Mitch Nelson, go into Afghanistan to defeat the Taliban, which requires negotiating an impossible terrain on horseback, up against tanks and missiles.
The story world should echo the Weakness/Need of the Hero, and in this story, we are shown the rugged terrain of Afghanistan, even though New Mexico is the stand-in shooting location. The breathtaking yet deadly trek while firing high-powered weapons on horseback melds ancient warriors with modern warfare. The Hero, although never in war/battle except in training, must rise to the occasion. That is his destiny and his men take their cue from his fierce determination to defeat the enemy, even though it is almost certain these men will die.
Man and horse are from an era long gone. However, understanding that the only way to defeat this enemy is to brave the culture from the past – This is the key to winning this war. The irony of embracing the past in order to defeat the enemy in the present stays strong throughout the story.
Reviewers of this film have said this is an "old style war movie." They miss the point entirely. As the point-of view character Uzbek warlord Abdul Rashid Dostum, who commands 1,500 men both on horseback and by foot, points to his chest, a warrior's creed is from the heart, as opposed to standing behind modern weaponry and firing away. Men who would go into the fray on horseback against missiles and tanks are a certain type of individual, not just hardened and cynical, but driven by a Desire/Goal to defeat a ruthless enemy and a rotting civilization.
We are also shown the nihilistic culture of an enemy that has a Desire/Goal to break the local people and destroy their soul, thereby achieving domination. This is the Theme of freedom against slavery through sacrifice and honor. And since the Memoir/True Story methodology (not a true genre, but a method of telling a true story) takes place in 2003, part of this theme embodies what the United States would soon have to realize: This war is a "clash of civilizations," or East vs. West. Involved here is a clash of culture, religion that has become politicized, despotism, and something the West is not used to: Nihilism, the desire for death over life.
This culture to the western mind is obviously destructive and against G-d. In WWII, with the Japanese Kamikaze fighters crashing their planes into oblivion, the West had to learn how to defeat a Samurai culture gone awry. In 12 Strong, the Hero becomes aware of this as he leads his men deeper into tortuous, rocky terrain. There is a scene which pits the soldiers against the ragtag enemy, who approaches slowly with their hands in the air. Is it a trick? The Hero and his men are almost blown into oblivion when an Afghani "surrender" turns into a suicide mission. Thus, culture clash is made painfully obvious.
In sum, this film hits all the story beats and keeps the conflict moving forward with that punch-counterpunch between Hero and Opponents. The Desire/Goal has a defined Endpoint, which the audience is waiting for because the Opponent is shown to be a strong and powerful enemy, with flaws of psychopathic cruelty and downright evil towards his own people. There are a few scenes in which we are compelled to witness what happens when despotism takes over all sense of humanity.
As a precursor to worldwide terrorism, in 2018, we sit and watch with awe and admiration the trials that these men were able to overcome in 2003, knowing that this is "pre-capture of Bin Laden" and murder in the name of Islamic Jihad on a wholesale scale.